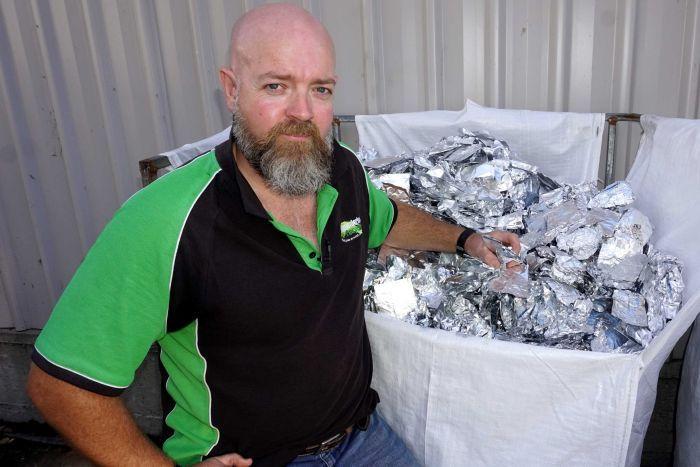 Gerard McClafferty from Salamander Bay Recycling has been waging his own personal war on waste by doing the rounds collecting tin foil scraps from six local hairdressers every week. After six months, he is now sitting on about one tonne of metal. 
"We literally want to try to show the community and the country at large that there are other ways to do things and this is the first step towards trying to achieve that," McClafferty told ABC News.

Mr McClafferty is the general manager of the Salamander Bay Recycling Centre, one of Zero Waste Network's member organisations. A not-for-profit community-run initiative in Port Stephens on the New South Wales coast, Salamander Bay Recycling Centre donates on average $30,000 a year to Port community groups while employing 11 fulltime and casual workers and providing on-site programs.
According to McClafferty, the weekly foil collection project was initially developed as a method of quantifying how much foil ends up in landfill. After witnessing the sheer volume being collected and realising its impact on landfill, Mr McClafferty selected foil as the target of his personal war on waste. 
"We've got five large bags, 200 kilograms each that will be diverted away from landfill and will prolong the lifespans of the landfills that are in use around the country", McClafferty says.  
Local hairdresser Sarah Southwell a small salon in front of her Salamander Bay home, and states that she had previously been discarding around 300 metres of foil a week before the recycling centre started picking up from them. 
Another Australian organisation called Sustainable Salons, has set up a resource recovery service designed for the salon environment that is also coming up with ways to recycle waste and cut back on landfill. They currently have around 500 members salons around the country, working with them to collect hair, paper, plastics, metals including aluminium foil, chemicals, razors and hairdressing tools.
But with about 12,000 hairdressers across Australia, Mr McClafferty says there were still many more tonnes of foil that could be diverted into recycling.
According to Planet Ark, Australia enjoys better rates of recycling aluminium than most in the world. It provides the following advice:
Almost two out of every three cans is recycled.
Aluminium does not 'degrade' during the recycling process, which means it can be recycled over and over again. Recycling aluminium reduces the need for raw materials and reduces the use of valuable energy resources. 
For every tonne of aluminium recycled, five tonnes of bauxite are conserved. 
Aluminium is a valuable material to recycle due to the large amount of energy and resources used in the initial manufacture. Making a can from recycled materials rather than from bauxite saves 95 per cent of the energy. 
Each single can recycled, saves enough electricity to run a TV for three hours. This means that recycling one kilogram of aluminium saves 20kg of greenhouse gas from the atmosphere. 
For more, see the Planet Ark fact sheet.
The Zero Waste Network represents social enterprises and not-for-profits in the reuse, repair and recycling industry across Australia – for a full list of members, see www.zerowastenetwork.org.au/members.
Source List
Millington, Ben. 'Man collects one tonne of hairdressing foil scraps in personal war on waste', ABC Newcastle, 22nd July 2018 
Salamander Bay Recycling begins hair foil collection on Tomaree Peninsula with surprising results
Salamander Bay Recycling Facebook
Salamander Bay Recycling Website